Our innovative monitoring sensors use an advanced accelerometer that measures orientation and acceleration across three axes, multiple times per second. Each animal's movement is recorded constantly, and our intelligent algorithms analyse the data collected, providing accurate alerts and information on fertility, lying time, lameness and mobility.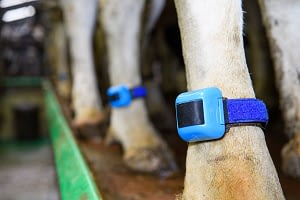 If abnormal behavioural patterns are detected, our sophisticated CowAlert cloud-based analytical system evaluates and alerts the user, allowing them to take pre-emptive action to protect cattle health and well-being.
JOBS & CURRENT VACANCIES
We're always looking for talented individuals to join our dynamic team. As a rapidly growing company, our team members have the opportunity to make a real impact on our development, and our customers.
We lead the way in the field of animal health, well-being and behavioural analysis using our market-leading wearable sensor technology. We like to think we do the same in only recruiting the best too, and although we work hard, we also make time for fun.
If you think you've got what it takes to knock our socks off, we'd love to hear from you.
Send your CV and a covering letter to recruitment@icerobotics.com